The P-10 is one of the popular Roland PR Video Presenter Series. The P-10 Visual Sampler is the newest, compact and most affordable offering in the growing lineup of Roland visual performance products. Although many presenters and visual artists use computers for their video and still-frame playback, they are limited in accessibility, reliability, control and triggering content.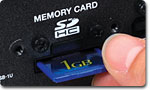 The P-10 provides a solution to all of these issues in a number of ways. Being equipped with 12 keypads, dedicated knobs and dials, the user has tactile control and accessibility to all their material. The P-10 uses SD and SDHC memory cards for solid state, reliable storage and supports motion jpeg and still jpeg formats. A bright color LCD display enables viewing with no need for an external monitor. Being a dedicated hardware device, the P-10 is very stable and is not susceptible to stuttering, virus or hardware and software compatibility issues inherent with computers. Analog capture inputs provide a quick and easy way to directly capture content to the P-10 and then immediately play it back with effects enabled to wow the crowd. Additionally, the slide show function allows the piecing together of still images to create movie type playback or give the feel of stop motion animation. The P-10 is the ideal solution for corporate presentations, VJ's, clubs, houses of worship and sporting events. The sleek and compact design lends itself to portable applications, as well as permanent installations when size and space are considerations.

The P-10 is also the perfect compliment to the newly released
V-8
Eight Channel Video Mixer as a dedicated input source for video performance and playback.
All in One, Easy to Use
The P-10 is the latest compact visual tool from Roland. It is a standalone unit with all the necessary features to create a compelling visual presentation, such as real-time capture, special visual effects and an integrated LCD display. The P-10 employs SD or SDHC memory cards for fast, reliable storage and playback of media.
Easily Assign Clips to Pads
Capturing media from various sources (video decks, DVD players, digital cameras, etc) is extremely easy. Video is stored as Motion JPEG and still images as JPEGs. 72 banks with 12 pad sets offer the storage and quick recall of up to 864 clips.
Link your Audio & Video with V-LINK
Linking with V-LINK devices is easy. With one simple connection, real-time multi-media performance from a variety of instruments is yours.
Play Modes & Effects
Playback modes like Reverse, Strobe or Motion Control provide impressive effects for your audience. Slide Show enables animation from multiple still images.
Movie Play Modes
•
Forward Loop:
Loops playback •
Alternative Loop:
Repeats forward and reverse playback •
One Shot 1:
Stops at final frame and pauses •
One Shot 2:
Stops at final frame without pausing •
Gate 1:
Plays while a pad is pressed. Pauses the frame when the pad is released. Press again to start from the paused frame •
Gate 2:
Plays while a pad is pressed. Output is stopped when the pad is released
Hi-Speed Data Transfer via USB
Import or export media files via USB. Free software for format conversion is included enabling easy conversion to P-10 compatible video files.
Illuminated Pads and Buttons
The sampler-like interface of the P-10 lets you perform visuals as if they were music. Self-lit pad buttons enhance playability on dark stages or at Front of House.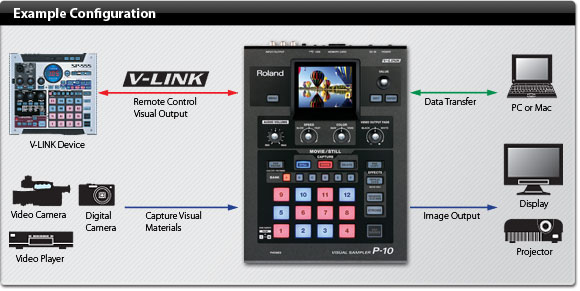 Capture and replay media from many sources
• You can easily capture video or still image materials from digital still cameras, video cameras or computers. • Enjoy real-time visual performance with your captured media. The P-10 provides easy and intuitive playback with its pads and bank selections.. • V-LINK enables synchronized performance of audio and visuals. For example, synchronized playback with a sampler like the Roland SP-555 enables visual output in sync with the sampler's audio output. Cleverly synchronized sounds and visuals will deliver compelling and dramatic presentations.