M-480
---
on September 6, 2015
48-Channel Live Digital Mixing Console
POWERFUL AND FLEXIBLE 48-CHANNEL DIGITAL MIXING CONSOLE
With superb sound quality, powerful functions, expandability and intuitive operation; the V-Mixing System continues to introduce new possibilities to the live mixing market. Now after its 2007 debut and as a direct response to actively listening to our users, the next generation V-Mixer has arrived. Equipped with a newly developed mixing engine, the M-480 provides an enhanced level of powerful and flexible audio processing.
48 mixing channels plus 6 stereo returns for a total of 60 channels
Main (LCR) outputs, 16 AUX buses, 8 matrices
Configurable to 90 inputs and 90 outputs depending on Digital Snake configuration
4-band advanced parametric EQ, and delays on all inputs and outputs
Compressors and Gates on all mixing channels
Six built-in stereo (dual-mono) multi-effects and twelve graphic EQs (switchable to 8-band PEQs)
214 possible output patch points on each port (A,B, console). Allows direct routing from preamp to output point without having to use mix channel.
Supports integration with Personal Mixing System and Multi-Channel Live Recording/Playback
Cascade connection supports large format applications for 96 mixing channels
The M-480 is the first V-Mixer to support a cascade connection that enables 96 channels of mixing by connecting a second unit - all via one simple Cat5e/6 cable. Supporting live events, mobile production, broadcasting, and sound installation the V-Mixing System with the M-480 V-Mixer at its heart provides a premium level of innovation for any live mixing venue. The M-480 is the flagship of the V-Mixer lineup which includes the
M-300
and the
M-200i
. To find out more about how each model compares see the
V-Mixer Comparison Chart
.

Add the powerful and comprehensive iPad app to control the M-480 V-Mixer. Available on the iTunes AppStore.
Advanced Processing Power
The processing power of the M-480 supports the widest range of venues and applications. The newly developed mixing engine provides a 4-band fully parametric EQ, gate, compressor, and delay on each input channel. 214 possible patch points with 90 discreet outputs.
Easy, intuitive and award-winning interface design
The large color display and dedicated knobs and buttons in the channel edit section offers intuitive operation. The user interface is designed to be easy to learn and easy to use. Combining the cursor buttons around the value dial provides optimized and efficient operation.
All input and output channels equipped with delay
In large format venues such as a concert halls and stadiums as well in broadcast applications, audio time alignment settings are critical. The M-480 is equipped with delays on all mixing channels and outputs buses. High quality and precise sound adjustments can be accomplished by using the built-in real time analyzer.
The cascade capability enables a solution for high channel counts
The M-480 supports a cascade connection requested by many live sound engineers. Connecting two M-480s with one REAC cable enables the mixing of up to 96 channels as well as advanced synchronization of internal buses. A mixing environment equivalent to a large format console can be created within a minimal footprint and budget.
Powerful mixing capacity
The capacity of 48 mixing channels, 6 stereo returns, main LCR outputs, 16 AUX buses, and 8 matrices supports any venue or application. The fully assignable REAC A and B patchbays allows for very flexible internal routing. A post preamp patchpoint allows direct routing from inputs to outputs without having to route through the console.
Newly developed mixing engine with powerful signal processing
All inputs and outputs are equipped with a
4-band fully parametric EQ
. A gate, compressor and delay is also available on all mixing channels. Channel parameters are controlled using the dedicated knobs and buttons. With a high resolution crystal clear color display, the M-480 provides an unprecedented audio mixing experience.
Rich effects along with Twelve GEQs/PEQs
The M-480 is equipped with six dual-mono, multi-effects processors that are available as AUX or insert effects. Each multi-effects processor has 18 algorithms of various types such as reverb, delay, chorus, pitch shift and advanced channel strip. Six types of precisely emulated legendary vintage Roland effects such as the RE-201, SDE-3000, and SRV-2000 are included. In addition, twelve 31-band graphic EQs or 8-band fully parametric EQs are included for sound adjustment. The six multi-effects and twelve GEQs/PEQs can be used simultaneously for a total of 24 GEQs if needed.
All inputs and outputs are equipped with delay
The M-480 is equipped with delay on all input channels and output busses. Problems with sound delay in a concert venue or broadcast application can be solved using the internal processor. Delay time is adjustable up to 400msec, and is selectable in both time and distance units between msec/feet/meters / frames. It also features a high performance graphical real time analyzer for precise and focused sound adjustment.
Remote control and offline setup using a PC
The M-480 can be controlled remotely by connecting an PC via USB. The M-480RCS control software has the same user interface as the built-in display. The M-480RCS can also be used when the M-480 is not connected allowing offline setup and configuring of the system before an event. Setup data can then be copied to a USB flash drive ready to load into the console at the venue. Using a connected PC and a wireless LAN, a tablet device can control the M-480 from a remote location like the stage or a seat in the audience.
Three live recording options
The M-480 supports live multi-channel recording. Simply connect the R-1000 with Cat5e/6 cables to easily record (or playback) up to 48 channels of 24 bit audio. Uncompressed BWF file data is stored on a removable SSD or HDD where it can be edited later in the studio with a DAW of choice. By using Cakewalk SONAR Producer software*, up to 40 channels can be recorded directly by simply connecting a single REAC cable to a PC. In addition, the built-in USB memory recorder can record a stereo output signal from the M-480 as an uncompressed WAV file. The USB memory recorder also supports WAV file playback for convenient playback of music and announcements. * REAC driver kit is required to record using Cakewalk SONAR directly.
Support and management of multiple M-48 Live Personal Mixers for the ultimate in monitoring environments
For the performing musician wanting the best possible sound quality and flexibility in their individual stage mix, the
M-48 Live Personal Mixer
offers control over 40 audio sources that can be easily managed in 16 assignable stereo groups. Configurations are straightforward with the ability to control, save and recall all connected M-48s from an M-480, M-400, M-380 or M-300 V-Mixer allowing the FOH engineer to assist in setup and mixing. The use of IEMs (In-Ear Monitors) dramatically reduces the amount of sound picked up by stage microphones. It also eliminates feedback while providing superb sound quality for both live performance and recording.
M-480 Version 1.5
Based directly on user requests, this firmware update introduces features especially for operators who mix sound for Theater and Broadcast. New effects parameters also allow all new creative opportunities and sound shaping power.
Version 1.5 Highlights:
• Increased DCA count from 8 to 24 • Audio Volume Crossfade on Scene Change • Increased input and output delay time up to 1.2 seconds for broadcast and large outdoor applications • Five new effect processors including Multi-Band Compression/Expansion and BOSS digital effect models • Second order shelving EQ option for Lo and Hi bands for channel parametric EQs • Mutually Exclusive LR/C assignment for cross-matrixed linear array speaker configurations • Delay setting in "samples" • Monitor dimmer setting
Labels Template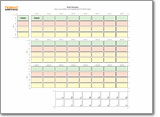 M-400/480 Labeling Template
Use this PDF label template to print labels for your M-400 or M-480 unit onto standard 8.5"x11"
sticker
or
magnetic laser/inkjet
paper. One page contains enough for one unit.
REAC Technology

The backbone of the V-Mixing System is based on REAC – Roland's Ethernet Audio Communication transmission protocol for low latency, high quality digital audio transfer. Products using REAC technology are installed today in many venues and have been used for high profile events worldwide. REAC's 24-bit, 40x40 channel protocol delivers pristine digital audio via lightweight, inexpensive and easy to install cable (Cat5e/6). REAC technology is immune to externally induced signal quality degradation or hums and buzzes typically found in analog systems. You have more freedom in cable placement resulting in lower cost and better sounding.
Learn more about the power and benefits of REAC
. See Pre-Configured V-Mixing Systems ready to go
here
.